🎥 Forgetting Sarah Marshall (2008)
Featuring what could now be considered an ensemble cast, Forgetting Sarah Marshall is a comedy about how any romantic relationship requires constant effort and can fizzle out, if not maintained. It spins a collection of common tropes and humorous skits in a way that results in something better.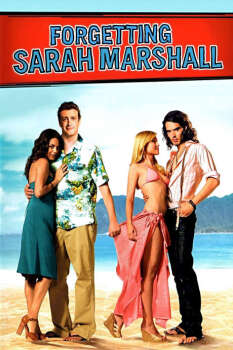 Peter is moping around after being dumped by his TV-star girlfriend Sarah Marshall. His step-brother convinces him to take a vacation to Hawaii, where he is sad to learn that Sarah is also on a vacation with her new rock-star boyfriend. Peter also starts to develop feelings for the hotel concierge Rachel, with whom he spends most of his time doing island-related activities. Both Peter and Sarah interact multiple times, discussing issues with their previous relationships and comparing their new ones. Over time, both Peter and Sarah get dumped by their new partners for being too concerned with their exes.
Peter's pervasive moping around would become repetitive real fast, were it not for the magnificent oceanic and island backgrounds. Most humorous situations involving Peter are practically independent skits, with weird characters in mundane situations such as a doctor, a surf coach, a bartender, party-goers and guests at a hotel. His interactions with Rachel are therapeutic, where she gradually helps him out of his sadness, by getting involved in stuff that he's never done before. After Peter, Sarah is probably the most human character in the cast. Her initial apprehension in breaking up with Peter, latching onto the next rebound and the very apparent jealousy at Peter having a good time all show that even though she may appear perfect on the outside, she is not in reality. Her attempts to seduce Peter after being dumped by her new boyfriend show that she needs to really work on herself, otherwise she would be stuck in similar ruts as before.
Going into the theater, I didn't know it was rated R, but it quickly became obvious when I realized that significant bits and humor revolved around sex. As a result, Russell Brand's character (Aldous Snow) is particularly well situated as a masculine rock-star. His witty off-hand remarks and tendency to make everyone around him insecure provides the right kind of contrast against Segel's pudgy character. Kunis' Rachel is the definition of angelic, and can do no wrong. She offers Peter premium lodging at the hotel at a massive discount, simply because she pities his situation. Her constant check-ins and efforts to help Peter move out of his depressive shell only reinforce the metaphor. Her daring and wild attitude is exactly the opposite of Peter's and her femininity serves to balance out Russell's overbearing presence.
The script makes balanced use of all characters, without needing to resort to a subplot to add more weight to the film. With a fairly descriptive title Forgetting Sarah Marshall well as a decent romantic comedy for adults.
Rating: ★★★☆☆ (Average)