Gajanan is a 33 year old teacher who has self-esteem issues. Things take a turn when he meets one of his unnaturally confident students who runs by the name of बत्तीस (32). The movie is named after "YZ", a पुणेरी slang word. However it puts a different spin on the idea and has its own philosophy on what exactly a YZ attitude is.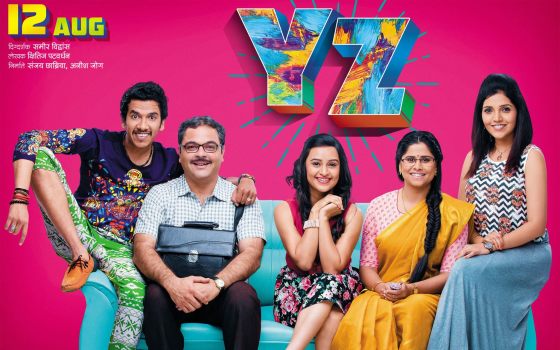 Gajanan arrives in Pune to teach history at a college and is desperate for marriage. His encounter with 32 makes him reconsider his approach and ask for help. According to बत्तीस, YZ is an attitude where one is confident in what one wants and has the courage to take decisions accordingly. Convinced that this is exactly what he needs, Gajanan starts practicing under 32's tutelage. He eventually manages to get women interested in him but is then faced with the problem of having to decide between more than one.
The plot is pleasantly unpredictable while still feeling natural. I was constantly expecting the story to fall into one of the clichés, but it manages to follow some amusing route almost all the time.
Like all other Indian films, it falls prey to the item-song syndrome and churns out a couple of other really unneeded songs. This also contributes to the longer runtime which could've been shortened to make it more palatable.
Finally, Gajanan decides to not marry anyone and instead focus on fulfilling his bucket list instead. This feels like a cop out, given all the buildup throughout the film. But I also can't see any other way they could've ended it, while still tying all the loose ends.
Rating: ★★★★☆ (Good)